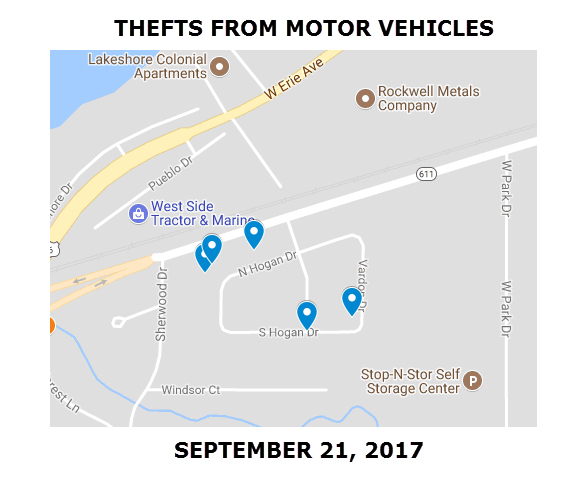 Theft From Motor Vehicle Alert
By Admin In News On September 22, 2017
---
A rash of thefts from motor vehicles and vehicle trespasses occurred in the depicted neighborhood yesterday.  The vehicles were all unlocked.  As with most, these thefts from motor vehicles occurred overnight.  We ask any residents who live in this area that have security cameras to review their video footage for the early morning hours on 9/21/2017 to see if any suspicious persons were in the area.
These thefts are a continuing trend of increasing thefts from motor vehicles throughout THE ENTIRE CITY.  As we continue to try and identify and apprehend the various criminals committing these thefts, we ask your help to reduce the occurrence of these types of thefts.  We ask residents of the entire city of Lorain to take the following protective measures to deny these criminals the opportunity to commit these thefts and to profit from your hard work:
LOCK YOUR CARS AT ALL TIMES
Remove all valuables from your cars. Do not leave portable electronic devices such as cell phones, GPS, laptops, iPods, tablets, or anything else of value that can be quickly sold or pawned inside your cars.
Do not leave money in your cars.
Do not leave purses, wallets, backpacks, or any other luggage in your cars.
If you must leave the items in your car, do not leave them in view. Secure them in your trunk or glove compartment or hide them under your car seats.
If you have a garage, consider parking your car inside of it (and locking the garage doors).
It is very important that you protect yourselves from these thieves.  Removing all valuables from your cars is the surest way to do so.  Even if you lock the door, these criminals will smash your car windows to get in if they see items of value to them when they look through the window.
Again, we are making every effort to identify and arrest the criminals who are committing these thefts.  Please make yourselves less of an attractive target and secure your valuables.  Don't give these criminals the opportunity to make a quick buck at your expense.
Please repost and share this information.  Please talk to your friends and neighbors who live in the city and advise them to protect themselves.
---