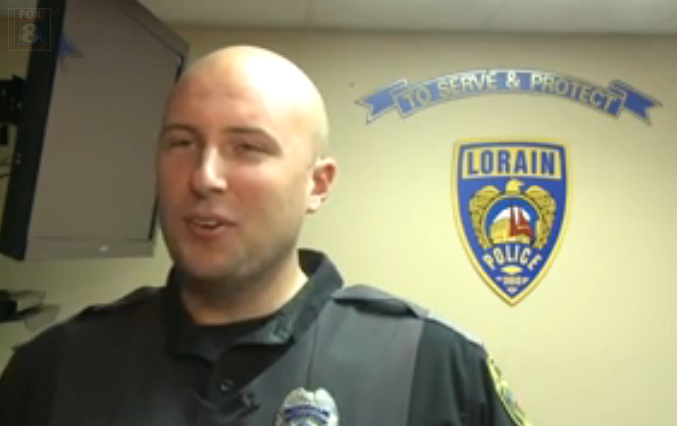 Quick actions of two Lorain Police Officers Saves Stabbing Victim
By Admin In News On December 10, 2014
---
LORAIN – A Lorain man who was the victim of a stabbing attack is alive today, thanks to the quick actions of two police officers.
One of the officers had something extra in his first aid kit that made all  the difference.
"I'm not a hero; I just did my job and did what I was supposed to and just happened to have something that I thought that would be good to have and it ended up working out,"  officer Marcus Haring said.
Lorain police officers Marcus Haring and Robert Gnagy may not feel like heroes but their actions last week were heroic.
On Thursday, the officers were first on the  scene where Roy Lewis Sr. was stabbed in the neck during an attack. While there, officer Haring quickly grabbed his first aid kit, which included a one-time QuickClot Combat Gauze packet the officer bought online for $40.
Haring heard about the blood-clotting gauze while he served in Iraq and thought it would come in handy one day.  "I just happened to have the quick clot material which when applied obviously aided in saving the male's life. It was a group effort though; other officers helping and then the life care personnel did a phenomenal job," Haring said.
"At that time officer Haring handed me combat gauze. I applied it to his neck where the wound was and then put regular gauze on top of it and held pressure until life care arrived," officer Robert Gnagy said.
The  officers say the combat gauze worked so well they plan on buying more and using in other emergencies when needed. "I think everyone should carry it that can carry it. I mean obviously there's a prices, a price to it, a budget and everything else but I know that I am purchasing more for myself and I'm gonna continue carrying  it and obviously it's something that, when needed, when you need it you need it," Haring said.
Since the stabbing, the victim has been treated and released from the hospital and the Lorain police department is looking into purchasing the blood clotting gauze for the entire department.
---