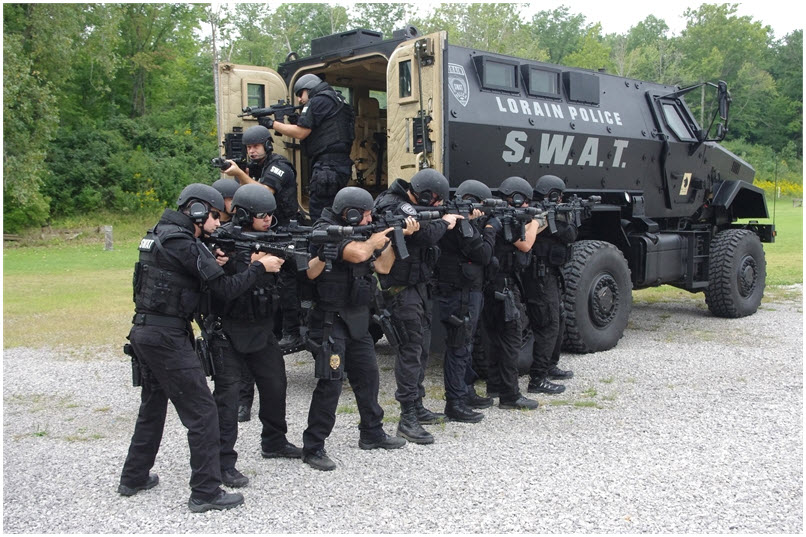 LPD SWAT Featured in Tactical Response Magazine
By Admin In News On January 1, 2015
---
Armored Rescue Vehicles: MRAP
Written by Mickey Davis, Jim Weiss
Inspiration for the development of the American military mine-resistant, ambush-protected (MRAP), wheeled armored vehicle goes back to South Africa's Border War (1966-1989). This was when the Casspir blast-resistant armored vehicle was developed for South Africa's police, and later incorporated into that country's military.
A follow-up South African ARV was the Buffalo. Both had V-shaped, high-up hulls designed to deflect blasts from land mines and improvised explosive devices (IEDs). The V-shaped hull directs the blast away from the driver and passenger compartments, which are separate. These vehicles also had run-flat tires.
America's police have been leasing military surplus MRAPs from the U.S. government. This means the government still owns them, and they cannot be sold or scrapped by the American police agency leasing them. A number of agencies are acquiring a surplus MRAP, and some are getting more than one. Lorain, Ohio Police has one, as do other law enforcement agencies. Pasco County, Fla. Sheriff has worked toward receiving two MRAPs.
The MRAP's protection consists of .50-caliber ballistic protection all around. They also have air conditioning; a nuclear, biological, and chemical (NBC) filtration ventilation system; escape hatches in case the ARV is flipped; and a winch that can pull the MRAP's own weight. In addition, there is often a ramp that can be removed or used for training, and a seat suspension system to reduce impact reaction to personnel should the MRAP encounter an IED hit.
A newly obtained ARV should be set up to best suit the agency's needs. For example, should the turret be left on or removed? To some, a turret makes it look tank-like. However, some MRAPs lack gun ports. If the MRAP has a turret left in place and/or has gun ports, it then can be used as an armored platform for suppressive firepower or counter firepower against any deadly threat.
Either way, an MRAP becomes armored ballistic safekeeping cover for law enforcement personnel, SWAT as well as any persons in need of rescuing, by maneuvering the vehicle between the people it is intended to protect and the firepower of the bad guy. Tactics need to be adapted to the vehicle. Different tactics go with different MRAPs, different mindsets, and different communities.
Pasco County, Fla. Sheriff's Office
According to Captain James Steffens, who is in command of the Special Operations Division within the county's Law Enforcement Bureau, Pasco County covers 747 square miles and has a population of about 470,000, a majority of whom live in the western section near the Gulf of Mexico. Within the county's boundaries are six mid- and small-sized cities with city police departments.
Pasco County Sheriff's Office (PCSO) is made up of 435 law enforcement deputies and 400 detention deputies. The large county sheriff's office SWAT team is combined with SWAT police officers from the New Port Richey Police Department, a much smaller city police department within the county. This creates a fully functioning, unified SWAT team.
Since this unified SWAT team was formed in 2011, it has taken part in 170 callouts. The sheriff's office has also obtained a Lenco BearCat, and, more recently, a six-wheels-powered-by-six-wheels or 6×6 MRAP. The agency ranked seventh to eighth under the federal government's National Defense Authorization Act-1033 program to acquire a 4×4 MRAP. There were EPA holdups on the delivery of MRAPs to local law enforcement because there is more of a demand for 4×4 MRAPs and reportedly our military is retaining 4×4 MRAPs in particular.
Unified SWAT has trained for and been involved in hostage taker, active shooter, barricaded suspect, high-risk warrants, and other operations. Has the team been confronted by active shooters? Yes, three times.
A returning, armed combat veteran who had been firing gunshots and had recently been Baker Acted (involuntarily committed to emergency mental health services for temporary detention) came to the door pointing a gun at deputies. Deputies took counter measures. The suspect was shot and killed using a triangular tactic. The team's BearCat was involved in SWAT's response. In another case, a suspect fired on deputies, their cruisers, and arriving SWAT. Street deputies and SWAT returned fire, killing him. In the third, a suspect ambushed responding deputies, firing 46 rounds. Street deputies and responding SWAT returned fire, killing the suspect.
Unified SWAT trains to use its ARVs to support various missions; these vehicles include their ready-to-go 6×6 MRAP and their "on-order" 4×4 MRAP. Training includes ballistic protection for community members and peace officers using the vehicles as blocking barriers between suspect and victims, chemical agent deployment, as a platform for cover fire, reconnaissance for intelligence gathering and site orientation, rescue of community members and peace officers, surveillance devices deployment, transportation of community members and peace officers, and to aid in verbal communications to attempt to obtain suspect surrender.
Also, Unified SWAT is a believer of and trains in utilizing their ARVs to take space away from the bad guy in a barricaded structure by, for example, using a ram to stop any further loss of life, as supported by the National Tactical Officers Association (NTOA).
Unified SWAT's 6×6 MRAP has a Caterpillar diesel engine, an Allison transmission, and was built in 2000 by BAE Industries for an original cost of $412,000. Like all MRAPs, it was leased,not bought, from the federal government through the National Defense Authorization Act, 1033 program. Leasing cost is $2,000 per year.
Spare parts are available from the government, and the sheriff's office has stocked up on parts such as spare tires. These are Hutchinson run flat tires, which can be further inflated for highway use by a control panel button, or have air pressure reduced for running on sand.
Unified SWAT's 6×6 MRAP has a turret but no gun ports, air-conditioning, and a Nuclear, Biological, and Chemical (NBC) filtration system. Their MRAP is operated by a crew of two, one driving it and the other in the passenger seat or at the turret; the crew is not SWAT. The turret can be run either by hand or electricity.
Unified SWAT's MRAP Vision
The agency's 6×6 MRAP is envisioned to be used as a special form of ARV. In 1979 (Warrenpoint) during the Belfast/Ulster troubles, the IRA blew up a truck of British paratroopers. The truck was not blast protected, and six paratroopers died. The IRA had prepared for any responding soldiers with a secondary bomb, killing 12. This incident was certainly reviewed by American police, who had been through terrorists'/militants' bombs and ambushes during the troubles here in the 1960s and 1970s.
In addition to dealing with bad guys and terrorism, Florida safety forces must also deal with tornadoes, hurricanes, and floods. For example, Oldsmar Fire Rescue in the Florida city of Oldsmar had a high-up rescue vehicle created for them. Rescue 54 is an ambulance built to address flooded roadways. Unified SWAT's MRAPs, while also built high off the ground to reduce the effects of IED blasts, also have the side benefit off addressing swamped roadways. MRAPs have a fording switch to turn off a fan and go deep, giving it the ability to wade in about 6 feet, 6 inches of water.
Due to its greater weight and higher road clearance, the Pasco County Sheriff's Office plans to turn their 6×6 MPRAP ARV into a Trauma Medical ARV. The plans are for it to be utilized by their tactical medics and volunteer trauma doctors, with its passenger compartment modified to accommodate them and their medical equipment. It can hold two stretchers, and can move a tactical medic and SWAT team into a hot zone under gunfire by providing cover for rescue operations.
These medical specialists are trained to provide immediate Tactical Combat Casualty Care (TCCC), all within the ever-important Golden Hour. To accommodate the lifting of stretchers, an extra step is being added to the 6×6 MRAP. The litters will be Talon tactical stretchers. As far as the Pasco County Sheriff's Office is aware, they will be the first law enforcement agency to convert their MRAP into a Trauma Medical ARV.
Lorain, Ohio, Police Department
Lorain, Ohio, is an old industrial city on Lake Erie. Lorain has a population in the range of 60,000 to 65,000 people; its area is 26 square miles. There are 105 sworn police officers on the Lorain police department, with 14 officers on the part-time SWAT team. A couple of decades have passed since Chief Cel Rivera was finally able to convince the city's political leaders of the need for the police to have a SWAT team. At that point, the Cleveland Police Department's SWAT team mentored the newly formed Lorain SWAT team.
It also took the chief years to obtain an ARV that fit his department's needs. His selling points for obtaining the MRAP were: 1) the high volume of crime in the city and the fact that it has illegal drug routes running through it; 2) the police department's ability to maintain an MRAP; and 3) the fact that the MRAP would have ambulance/rescue capabilities and could be used as a rescue vehicle.
Another selling point was that the department had been part of a multi-agency task force for 10 years without an ARV, and had participated in as many as 14–20 raids involving criminal activities of drugs and firearms. One such incident netted 20-some firearms, many of which were high powered. Two years ago, they obtained a hand-me-down Brink's armored truck from the Blue Ash, Ohio Police, and it would still be available as a secondary ARV. Before receiving its ARV components, Lorain Police was limited to the use of a ballistic blanket.
The Lorain Police street-detailed first responders (uniform patrol) don't work on a shift, platoon or watch, but on a team. They work with a structure of five teams. Every team has two or three SWAT officers. When a high-risk situation such as barricaded suspect, hostage taker, or high-risk warrant service occurs, the SWAT team members on duty take actual charge of the situation as policy, and not directly under that first responder team's supervisor, as they are trained to be high-stress thinkers. Officers must have been on the department for three years before being eligible to apply for SWAT. The selection process includes the likes of an interview, physical fitness, and firearms proficiency tests.
For SWAT rescue situations, the agency has two tactical medics, trained by Army Combat Life Savers. SWAT also is supported by a K9 team. When the Chief learned that the National Defense Authorization Act, 1033 program had surplus MRAPs available for law enforcement, he said that he'd been trying to get a good ARV for his department for years and years. When he heard that an MRAP ARV could be obtained for nothing, he jumped at the idea and convinced the city administration as well.
Even in the aftermath of the Ferguson, Mo. police shooting riots and cries from certain quarters over the militarization of American' police, members of the Lorain SWAT team have heard of no open negativity toward their MRAP. So far, there is mainly an awe-struck factor when the police MRAP rolls by. Lorain Police 6×6 MRAP, nicknamed The BEAST, is capable of fording 6.5 feet of water once the fording switch fan system is turned off. The city has had flooding where their police MRAP was used to ford 5 feet of water, the only police vehicle able to do so.
The Lorain Police has military veterans who are familiar with MRAPs, and the department counts upon their skills and knowledge to make repairs and operate it. A retired Lorain Police officer with a body shop did the paint work, while members of the SWAT team did the sanding and preparation for the paint. One repair needed was to the air filtration system and another to the MRAP's winch.
The BEAST can reach speeds of 70 mph. Its cargo/personnel area has three seats and a bench. The seats can be removed to set up a stretcher, something the SWAT officers are trained to do. The vehicle does not have a turret or gun ports, but it does have a ram and steps at its rear doorway. The BEAST was manufactured by BAE in March 2013, and was given to the city under program 1033; it is not leased.
The BEAST had served with the Army in Iraq and Afghanistan, and when the police department repainted it, they left the Army unit insignia of a Wolfhound's head (Wolfhounds, 1st Battalion, 27th Infantry Regiment) intact to honor that Army unit.
Jim Weiss is a retired lieutenant from the Brook Park, Ohio Police Department and a frequent contributor to Tactical Response. Mickey Davis is a California-based writer and author.
---
---