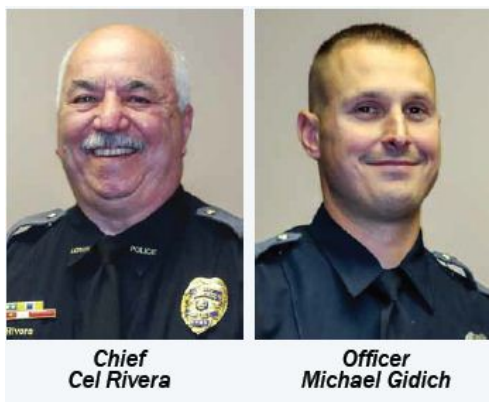 LPD Officers Recognized for Narcan Initiative
By Admin In News On October 10, 2015
---
On October 9, 2015, two officers of the Lorain Police Department were recognized by the Ohio Attorney General's Office for their efforts to save lives being lost to the growing heroin epidemic in the nation.  Recognizing the exponential increase in the number of heroin overdoses and deaths in the City of Lorain, LPD Chief Cel Rivera and Officer Mike Gidich developed a program that was the first of its kind in the State of Ohio to equip first responding police officers with naloxone, a life-saving antidote to opioids also known as "Narcan".  Chief Rivera successfully sought assistance from State Senator Gayle Manning to implement the program.  Their efforts eventually led to the passage of Senate Bill 57 which authorized police officers in the State of Ohio to carry and administer Narcan to citizens who have overdosed on opioids.
Chief Rivera and Officer Gidich were both awarded the 2015 Distinguished Law Enforcement Training Award for their efforts to combat the opioid epidemic.
The following is the original press release from the Ohio Attorney General's Office:
Chief Cel Rivera and Officer Michael Gidich, in an effort to stem the tide of opiate-related overdose deaths in their community, succeeded in an early program to equip officers with naloxone, a drug that blocks the effects of opioids on the brain.
In 2013, Chief Rivera began conducting research and discovered that a police department in Massachusetts had trained officers to administer naloxone to overdose victims. Chief Rivera met with Lorain County Coroner Dr. William Evans and contacted the Board of Pharmacy to see about obtaining naloxone for his officers to carry. After hitting a snag, Chief Rivera contacted state Sen. Gayle Manning and together they succeeded in gaining permission to equip officers with the nasal form of the drug. Soon, Senate Bill 57 was signed into law allowing first responders to start carrying naloxone.
With the implementation of the program, a policy and training were needed. Chief Rivera worked on the policy and asked Dr. Evans and Officer Gidich, who is also a paramedic, to work on a training presentation and video. Within two weeks, the training materials were ready for distribution throughout the county.
Since then, Chief Rivera and Officer Gidich have been assisting other departments with their programs. From October 2013 until May 2015 in Lorain, 54 overdose deaths were averted through the delivery of naloxone by police officers.
---