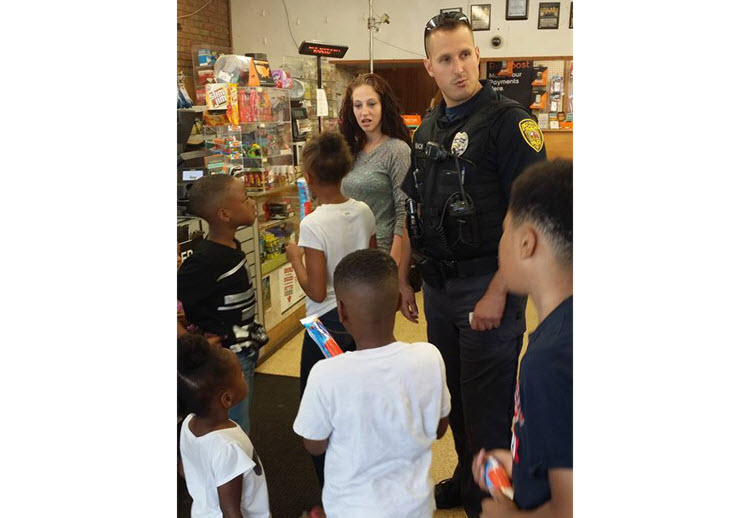 LPD Officer Rewards Kids For Doing the Right Thing
By Admin In News On June 9, 2016
---
Every day our officers go about their duties with a desire for nothing more than to serve our community.  They don't ask for recognition nor do they expect it.  We are pleasantly surprised when you, the citizens we serve, take notice and make the extra effort to let us know we are appreciated.  Such an incident occurred just a couple of days ago that we want to share with the rest of you.
On June 7, 2016, Lorain Police Officer Mike Gidich responded to an incident in which a 3 year old child was found wandering a neighborhood alone.  During his investigation, he learned that two young boys had not only found the child wandering the neighborhood and reported it to adults, but they also were so concerned for the child's well-being that they stayed with Officer Gidich until he found the child safely home.
Officer Gidich was moved by their actions and rewarded the boys by treating them to ice cream at Shak's Corner, one of our local businesses.  He wanted to commend them for doing the right thing.  When he did, he noticed about ten other children in the store that had gathered around to watch their friends with the officer.  Officer Gidich just didn't feel right leaving the other kids out so he bought them all ice cream.
One of our residents who was in the store at the time snapped a photo of Officer Gidich with the children and shared it to Facebook resulting in a pleasantly unexpected wave of thanks from our citizens.  Officer Gidich said:
"I'm glad that someone took the time share this story so people can see the true side of officers and that we are regular people. This represents the majority of what officers do though we tend to focus on the very small percentage of those who do not represent the job as they should."
While he appreciates the gratitude expressed by our residents, Officer Gidich still refuses to take the credit in this situation.  He pointed out that the two boys prevented a potentially dangerous situation for the lost child.  Also, Officer Gidich would like to thank Shak's Corner.  When Sami Shakkour, the owner of the store, learned why Officer Gidich was treating the group to ice cream, he volunteered to pay for half of the children to also get ice cream.
We would like to take this time to not only commend Officer Gidich but also our concerned citizens like the boys in this incident and the proprietor or Shak's Corner, Sami Shakkour.
---