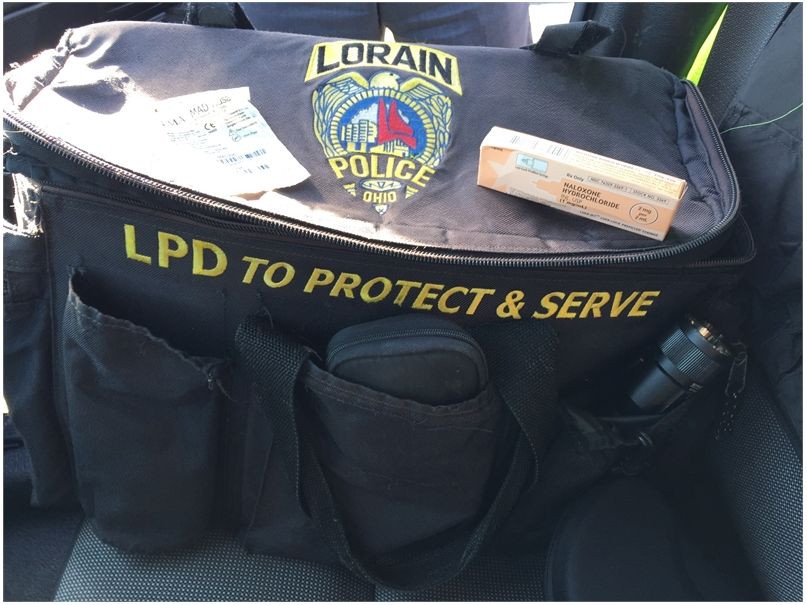 Lorain Police Narcan Initiative Featured in Law and Order Magazine
By Admin In News On January 1, 2015
---
Narcan Saves Lives in Ohio
Written by McBride, JT
The local police in northeast Ohio are saving lives. When the regional heroin-related death toll began to reach epidemic proportions in late 2012 and early 2013, Lorain, Ohio Police Chief Cel Rivera and the County Coroner, Dr. Stephen Evans, began working together with other officials to field test the use of Narcan.
This new tool means that 'street cops' who come upon unconscious overdose victims with growing frequency, are now armed with Narcan kits containing nasal-spray injection devices that can be used to administer doses of Naloxone. Naloxone has been historically used by physicians to counter the effects of opioid overdoses by rapidly countering the life-ending effects of excessive heroin ingestion.
This change in policy regarding the way Lorain police handles overdose (OD) calls for service was prompted by several factors recently cited by Chief Rivera in a special presentation to the Lake County Association of Chiefs of Police. The primary motivation stemmed from the rapidly rising number of deaths associated with opioid over doses in Lorain County, which numbered over 60 in 2012.
In comparison, there were 21 OD-type deaths in 2010. The second motivating factor stemmed from the frustration of local police officers who often got to the scene while the victim was still alive and had to watch victims die while rescue personnel were on the way to the scene.
CPR and other "first aid" techniques simply weren't effective in such cases, and family members sometimes watched their loved ones pass away while police "stood by and did nothing." In short, something needed to be done and done quickly to stop the deaths of so many local human beings.
As it turned out, Narcan has been used by medical staffers and medics for years to counteract the effects of heroin and other opioid drugs. While it can't bring the dead back to life, as a local newspaper noted, it can delay death long enough to get the victim more effective medical assistance. Fortunately, Naloxone has no effect on persons who are not suffering the effects of an OD episode.
The design of the kit involved makes it relatively easy to use in the field. When opioid OD is suspected, officers simply have to open the kit (which contains two doses of the medicine), assemble a two-part syringe (which includes a nose-cap instead of a needle), insert the atomizer into a nostril and activate the spray. The device transforms the liquid into a mist, which is rapidly absorbed by blood vessels in the nasal linings. Lorain police can assemble the kit and administer the drug in about 60 seconds.
It is a stable drug that lends itself to storage inside police vehicles in all types of weather, and some local hospitals are willing to acquire the kits at cost to save participating police agencies some money.  Medical officials warn that seconds can make the critical difference in such cases, so officers are trained to act quickly. Initiated as an experiment limited strictly to the local area, Lorain's Narcan program has now been approved for state-wide use by the Ohio General Assembly.
Detective Michael Gidich, Narcan project coordinator for the Lorain Police, stated that the focus of the Narcan program is saving lives and not arresting violators. While drug enforcement is a high priority of the LPD, life safety of officers and citizens is a higher concern. He noted that Quincy (Mass.) police had saved nearly 170 lives since 2010 using Narcan, and that Quincy was the agency that originated the Narcan field-kit concept now utilized by the LPD.
Rivera and Gidich proudly reported that since its implementation in October of 2013, Lorain's officers had already saved 33 lives in the last 13 months. One Lorain officers was dubbed an "Ace" by his peers after saving his fifth victim. Thanks to Rivera's Project Dawn (Deaths Avoided with Naloxone), Lorain's police officers no longer have to watch people die.
Lorain Police personnel have developed a written Narcan policy statement, Narcan training curriculum and a "how-to" video, which they shared with other Ohio law enforcement agencies. They also displayed a quick reference guide that has proven invaluable to officers in the field. Ohio's police training academy now offers an online training video on Narcan protocols to officers. Ohio law limits liability is cases of Narcan administration when given in good faith, and the side effects of the drug are minimal, lowering the liability exposure of agencies adopting its use.
The U.S. Department of Justice recently held a workshop on the issue in Washington, D.C. (which Rivera attended) and will soon issue a national "white paper" on the topic because of the growing interest in the success of the Quincy-Lorain Narcan projects. The Ohio Department of Health is now offering Narcan training to family members of addicted citizens, and Narcan is also featured in crisis intervention certification classes offered by NAMI and regional health boards.
Rivera cited low cost of the program along with the significant support for Project Dawn received from Dr. Evans, State Senator Gayle Manning, and the Ohio General Assembly; Mercy regional Medical Center and its Chief Pharmacist Eric Remster; EMH Elyria Medical Center; Lorain and Elyria public health officials; city and county officials; Lorain FOP Lodge #3; and the local news media.
Gidich said that the project was an example of community-based crime prevention at its best and has engendered a great deal of citizen support for the department. "For once," he said, "we have people stopping by the station and saying "thank you." More importantly, some of the addicts saved by the Project Dawn have reportedly "gone clean" since their near-death experiences. For more information contact Detective Gidich at: Michael_Gidich@cityoflorain.org.
Chief J.T. McBride, M.P.A. and C.L.E.E. (Ret), currently serves as a Lake County Special Deputy, Lakeland Community College community policing instructor, and free-lance writer.  He also serves on the county's Mental Health Alliance with Law Enforcement (CALMHS) advisory board, and can be reached at chiefjtm@aol.com.
---
---