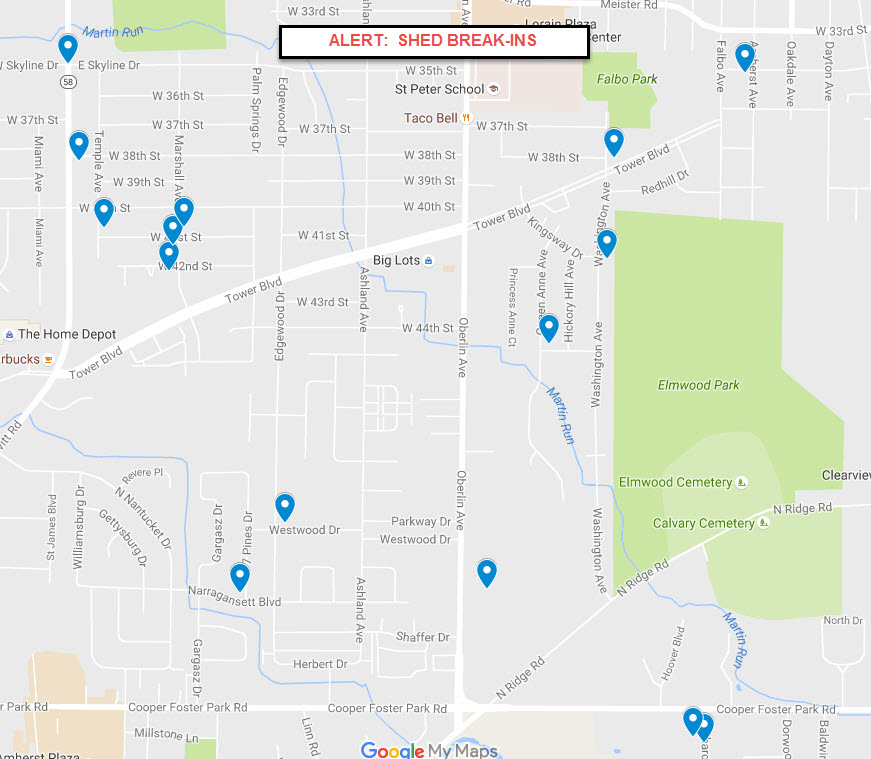 CRIME ALERT – Shed Breaking and Entering
By Admin In Crime Alerts, News On August 8, 2016
---
There has been a series of breaking and entering of sheds reported over the past month in which locks were pried off of shed doors and lawn equipment and snow blowers have been stolen.
The residences that were targeted were almost always corner lots with no perimeter fence around the yard.
The suspect(s) are believed to be using a vehicle to drive directly through the yard up to the shed where they pry locks on doors and steal large lawn equipment such as lawn mowers, snow blowers, and other tools.
These thefts have all occurred during the overnight hours while residents are asleep.
The last three incidents in this series occurred this weekend and are depicted in the upper left hand corner of the attached map.
Residents with security cameras in this area (especially residents who live on corner lots) are asked to review their camera footage that may have been recorded during the early morning hours on Friday, Saturday, and Sunday (8/5/16 thru 8/7/16) before the hours of 07:00AM.
Please contact the Lorain Police Department if you find any suspicious persons or vehicles acting in a manner consistent with these thefts on your video footage (204-2100).
In the meantime, residents should inventory their outdoor lawn equipment stored in sheds.  We highly recommend that you photograph and mark your property with serial numbers if they do not already have them.  By marking your property and storing the serial numbers and photos you will assist us in recovering them should they be stolen.
We have property marking kits at the Lorain Police Department that we will bring to your residence for you to borrow to mark your property upon your request.  Please contact us at 204-2100 for details or to report suspicious persons or vehicles you might find on your camera footage.
---