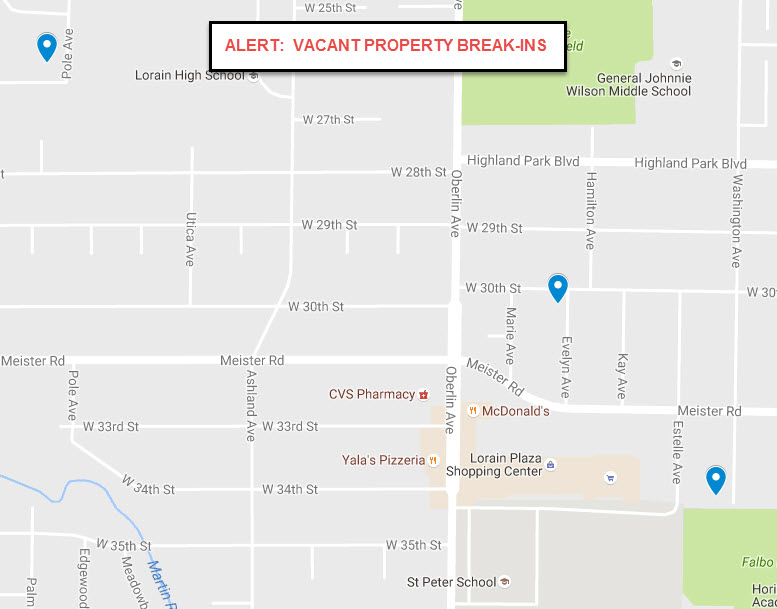 Break-ins of Vacant Properties With For Sale Signs
By Admin In Crime Alerts, News On August 25, 2016
---
There have been three reported break-ins of vacant residential properties between August 7, 2016 and August 19, 2017.  All three properties had copper piping stolen from within.  Additionally, all three had "For Sale" or realty signs posted in the front yards.  We believe the same suspect(s) targeted all three properties using those signs as indicators that the properties were vacant.
A dark colored pickup truck was observed backed into the drive-way during these incidents.  These break-ins are believed to have occurred during the overnight hours.
The break-ins occurred in the 1700 block of W. 26th Street, the 3300 block of Washington Avenue, and the 1100 block of W. 30th Street (see attached map).
Residents who live next to such vacant properties are encouraged to be vigilant and on the lookout for suspicious activity on such neighboring properties and report it to the Lorain Police Department at (440) 204-2100 as soon as it is observed.  Please be mindful of suspect descriptions and try to get a plate number and make and model of suspicious vehicles observed near these properties.
2016-36232, 2016-35828, 2016-35493
---