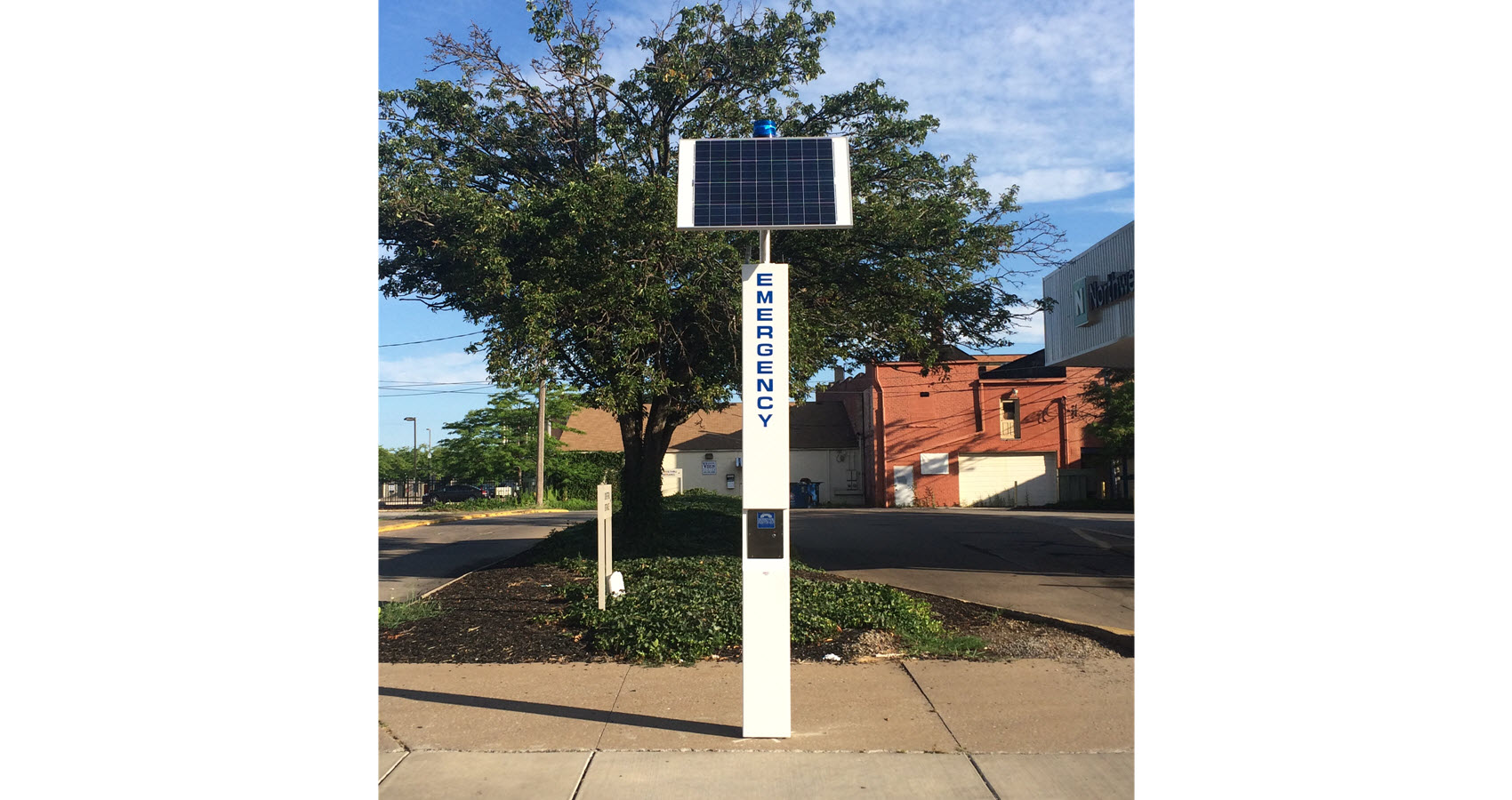 Blue Light Emergency Callboxes
By Admin In News On August 12, 2016
---
WHAT ARE BLUE LIGHT EMERGENCY CALLBOXES?
We constantly strive to improve the safety and well-being of our residents by providing as many ways as possible for you to contact us when you need emergency assistance.  Like college campuses and hospitals throughout the country, we have revived an age-old method to contact the police when in public.  Before the near universal use of residential telephones and two-way radios, police officers and members of the public relied on stationary police callboxes to contact police dispatchers.  These callboxes had lights on the top of them that would be illuminated in the event that an officer needed to respond to the callbox.
Though most people now have cellphones, we recognize that in some emergencies a citizen may not have the use of cellphone to call the police. To increase safety in our downtown and other highly used public locations, we have installed emergency callboxes that allow our citizens to request emergency assistance.
HOW DO CALLBOXES WORK?
Citizens in need of emergency assistance may use our Blue Light Emergency Callboxes to directly contact the Lorain Police Department.  The system can be identified by the blue light that is on top of a white rectangular post that reads "EMERGENCY" on each side.  Anyone may notify police officials at ANY TIME of the day or night, 365 days a year, by pushing a button on the box. The call automatically goes to our telecommunicators who will immediately dispatch an officer to that location. In addition, when a person presses the button, they can remain in direct verbal contact with our telecommunicators until police arrive. The flashing blue light on top of the callbox serves as a beacon to responding officers and others in the vicinity.
WHERE ARE THEY LOCATED?
Though we plan to continually add more callboxes to different areas of the city, we presently have three active Blue Light Emergency Callboxes:
Veteran's Park – A callbox is located in the southeast corner of Wickens Place and W. 4th Street.
100 Block W. 6th Street – A callbox is located just off of Downtown Broadway Avenue on W. 6th Street between Broadway and Reid Ave.
Oakwood Park – A callbox is located in the northeast corner of Oakwood Park on the Corner of E. 31st Street and Grove Ave.
---